Have you ever seen pigs fly? Well you can —- a whole wall of them!
Impress your friends with a wall full of adorable flying pigs; it's an accessory that won't be soon forgotten.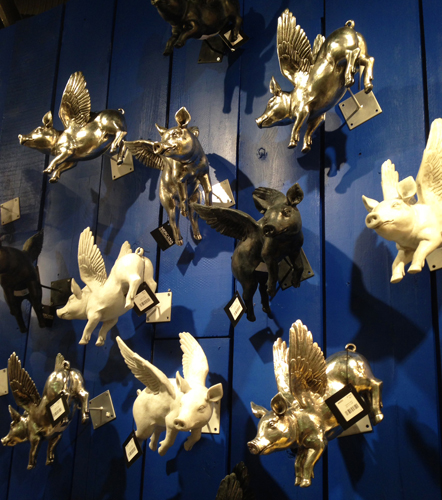 Picture arrangements are always our standby, but why not think outside the box and let you sense of humor or personal style make a statement on a feature wall in your living room or create a smile every time you enter you den.
At the recent Las Vegas Home Furnishing Show, I saw usual and creative new ideas to change up old tired walls. Colorful ceramic pods or metallic disks can light up a room with texture and flow and bring out your whimsical side.
If you collect driftwood, reclaimed exotic wood, rusted metal or anything else that makes a statement, get creative with you display, use some symmetry and have some fun!
Check out the pictures below to get your juices flowing…

Save